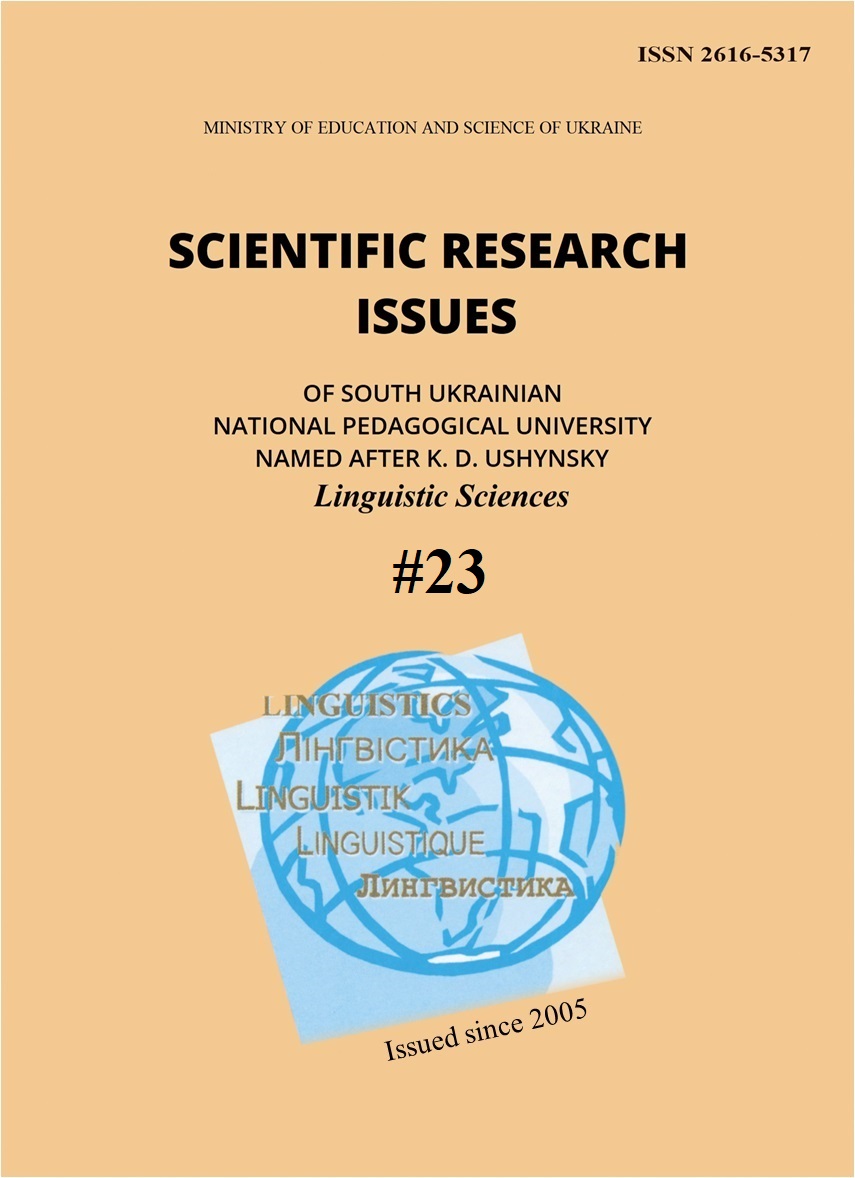 ---
«Scientific Research Issues of South Ukrainian National Pedagogical University named after K. D. Ushynsky: Linguistic Sciences» has been published by South Ukrainian National Pedagogical University named after K. D. Ushynsky since 2005. Certificate of state registration of print media: Series КВ 24068-13908ПР (31. 07. 2019).
---
---
Content
A Scientist and his Fundamental Study: Text. Praise for Nikolay Zymomrya
Koroleva T. M., Tkachuk M. P., Zymomrya I. M.

SYLLABICS: THEORY AND PRACTICE
Brovchenko T. A., Korolova T.M.
The Problem of Nominative One-Member Sentence in the Works of Ukrainian and Foreign Linguists
Burkovska O. Y.

The Formation of Effective Informational and Communicative Skills of Future Translators of Scientific and Technical Literature Using Media Tools
Grushko S. P.

The Peculiarities of the Contemporary Scientific Discourse Translation: the Communicative Aspect
Derik I. M.
The Folklore Discourse As a Source of Formation of the Genre of a Riddle
Druzhina T. A.

The Additional Coordinating Conjunctions: Means of Correlation in Semantic-Syntactic Relations
Kozytska O. A.

The Necessity of a New Approach to the Theory and Practice of Translation
Naumenko A. M.

The Connotative Lexis in the Chinese and Ukrainian Languages
Оськіна Н. О.
Language as a System of Forms in the Scientific Works of A. Shleicher
Svyatchenko V. V.

Nominative Utterances of Partial or Zero Predicationin the 21st Century Artistic Discourse
Turmys O. V.
The Ditransitivity
Phedorinchyk A. S.

The Typological Linguistic Features of the TV News Discourse
Yukhymets S. Yu., Klachkova L. V.

Die Ukrainische Volksdichtung im Deutschen Sprachgebiet: Zum Problem der Bewertung und Interpretation


Zymomrya M. I.