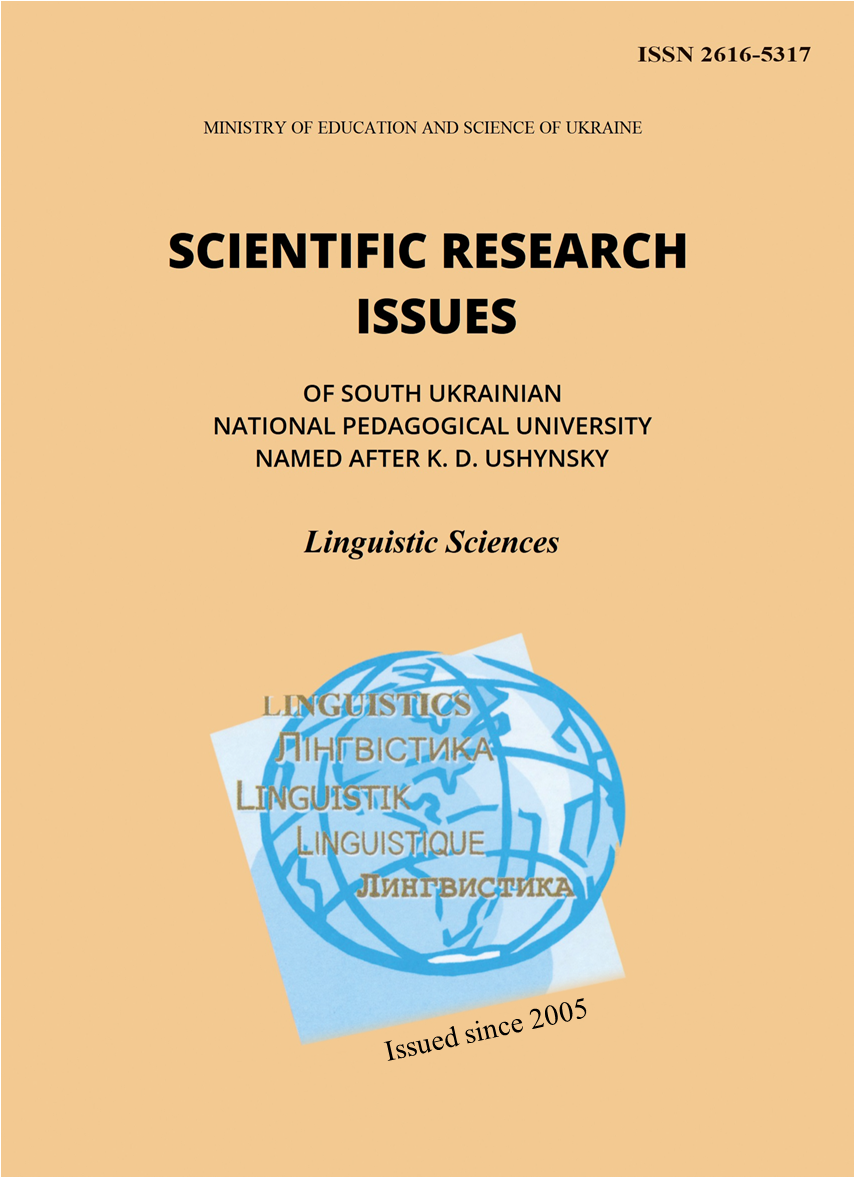 ISSN 2616-5317; e-ISSN 2664-2662
Title: «Scientific Research Issues of South Ukrainian National Pedagogical University named after K. D. Ushynsky: Linguistic Sciences»
Frequency: semiannual.
Published since 2005
Publisher and Founder: South Ukrainian National Pedagogical University named after K. D. Ushynsky 
Editor-in-Chief: Alexander I. Iliadi, Doctor of Philology, Professor of the Department of Translation, Theoretical and Applied Linguistics of the SI "SUNPU named after K. D. Ushynsky".
Areas of study: Current issues of modern linguistics, theoretical and applied aspects (Germanic, Slavic, Romanic, Oriental languages), scientific findings of the core directions of theoretical, experimental and applied research in the sphere of contrastive linguistics, theory and practice of translation, experimental phonetics, machine translation, informative technologies in translation and interdisciplinary studies. See more Aims and Scope.
Manuscript languages: Ukrainian, English, Russian, German, Chinese, Korean (mixed languages).
Targeted audience:  the leading academicians, full professors, associate professors, doctors and candidates of science, postgraduate students, researchers, graduates etc.
Certificate of state registration of print media: Series КВ 24068-13908ПР (31.07.2019).
All issues are kept at the State Institution "Vernadsky National Library of Ukraine of the National Academy of Sciences of Ukraine"
All marked answers the rules of the Committee on ethics in publications – Committee on Publication Ethics (COPE), Budapest Open Access Initiative (BOAI) and Berlin Declaration on Open Access to Knowledge in the Sciences and Humanities.
License terms: authors retain copyright and grant the journal right of first publication with the work simultaneously licensed under a Creative Commons Attribution License International CC-BY that allows others to share the work with an acknowledgement of the work's authorship and initial publication in this journal. 
The journal's Editorial Board has taken measures to ensure high ethical and professional standards based on Principles of Transparency and Best Practice in Scholarly Publishing. See more Editorial Ethics.