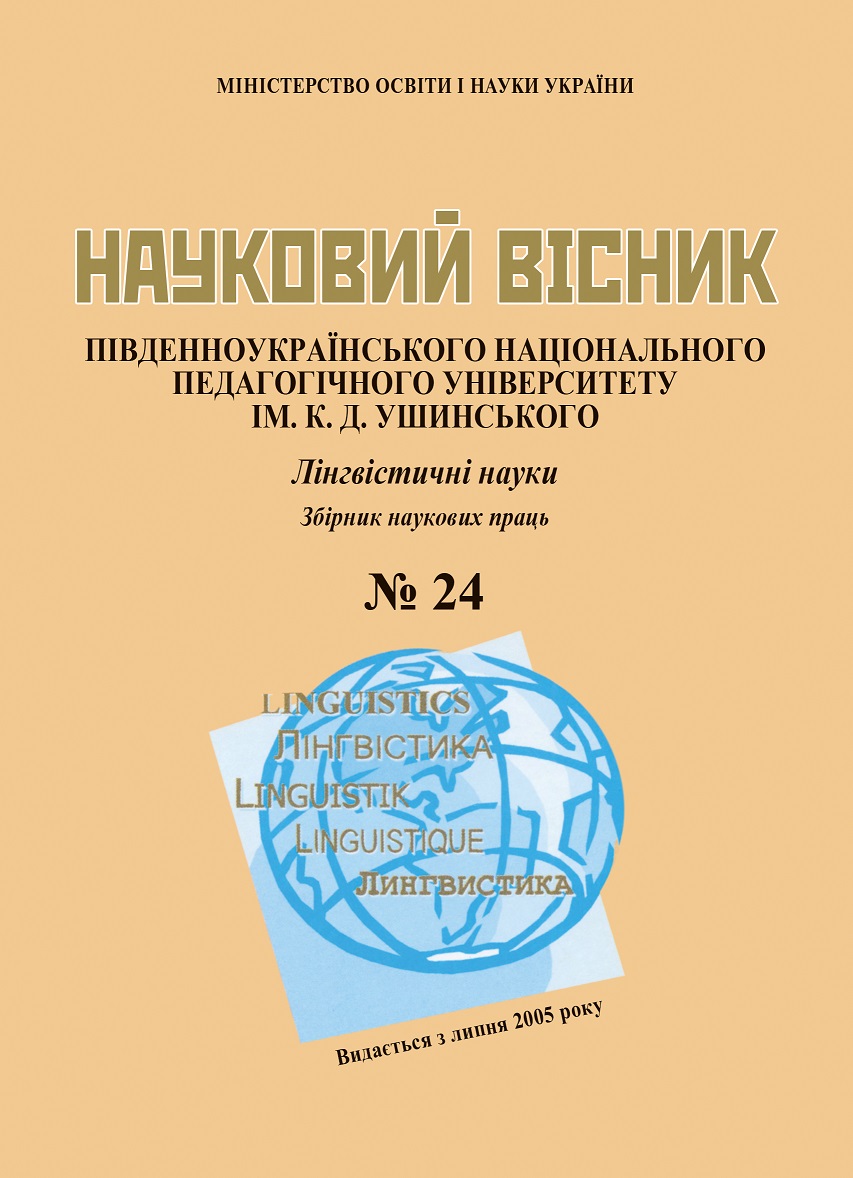 ISSN:
2664-2662
---
«Scientific Research Issues of South Ukrainian National Pedagogical University named after K. D. Ushynsky: Linguistic Sciences» has been published by South Ukrainian National Pedagogical University named after K. D. Ushynsky since 2005. Certificate of state registration of print media: Series КВ 24068-13908ПР (31. 07. 2019).
---
---
Content
The Problems of Translation in the Field of Hermeneutics
Grushko S. P.

Science and Technical Translation as a Type of Intercultural Communication
Gruschko S. P., Busanova A. P., Borysenko P. S.

The Overview of the Internet-Discourse
Derik I. M.

The Peculiarities of Riddles' Translation
Druzhina T. A.

Commercial Advertising Discourse: Translation Aspect (on the basis of English translations of Ukrainian mobile operator's websites)
Zhmayeva N. S., Moskalenko K. A., Yukhymets S. Yu.

Linguocultural Peculiarities of Political Discourse
Igrak К. I.

General Characteristics of Popular Science Discourse
Koroleva Т. М.
Cohesion and Coherence in English Translation of Ukrainian Scientific Texts
Koroleva T. M., Zhmayeva N. S., Popova Ya. Yu.

Grammatical Means of Reproduction of Interrogative Communicative Semantics while Translating Interrogative Sentences from Ukrainian into English within Official Academic Correspondence
Popova O. V.

Correlation of Theme-Rheme Structure with Dictum and Modus in English and Ukrainian Television Discourse
Savchenko Ye. Yu.

Types of Judicial Speeches and its Peculiarities
Shvetsova V. Ye.


The ways to Overcome the Difficulties Faced by Master's Degree (Philology) Students in the Process of Publicistic Texts' Comprehension




Yablonskaya T. N.